Dr. Fisher continues to foster innovation in his second year as Chair of the National Academy of Neuropsychology Foundation were his primary goal is to expand knowledge of the Foundation's mission to a larger community of people, especially those in the military.
He is spearheading two exciting Foundation projects in 2017!



The first children's book addressing brain injury in military families is going to print!
This first book is targeted at children between the ages of 8-12 who, without any preparation and at a very young age, have been confronted by their mother or father coming home from their military service with a brain injury. Because brain damage is so often invisible, these children are confronted with an especially difficult reality. Although their parent is home from combat and may look like he or she did before deployment, mom or dad does not act or behave the same way they did prior to deployment.
The production of a short educational film for the children of our wounded warriors. This film will help children understand changes in their mom or dad after a brain injury.



---

Dr. Jerid Fisher developed inpatient and outpatient brain injury rehabilitation centers throughout New York State.
Jerid Fisher addresses the crowd of well wishers at the opening of Our Lady of Victory Brain Injury Center, James and Sarah Brady were featured guests in attendance.



Easy Street
As part of Neurorehab Associates, "Easy Street" offered rehabilitation opportunities to brain injured patients to experience a real world setting as part of their therapy. The street, located inside the rehabilitation center included a car, a small grocery store, a restaurant and a home.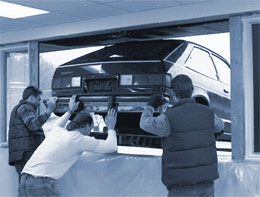 In order for Easy Street to be installed, a car was lifted by a crane into the second story window of Neurorehab, and gently brought in through a large window.